Farm Information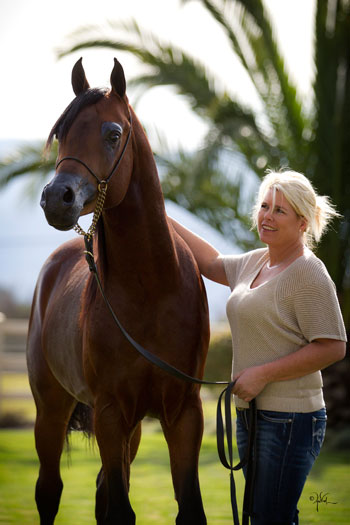 Located in a secluded area of Riverside County, California, known as Gavilan Hills, Feather Arabians evolved from a lean-to on the side of the garage that housed a National Show Horse, NH Cancun (Reign On x A Summers Day). Cancun brought so much beauty, love and excitement to our lives we were hooked and in love. We decided to purchased a grey purebred Arabian mare name Tracktabl (Fast Ptrack x Santana Deziree), our love for the purebred Arabian horse grew stronger from that moment forward.
Through extensive research into the bloodlines & breeding strains that produce the classic ideal Arabian look we strive for, we are now evolving the breeding program here at Feather Arabians with each generation consistently reaching closer to our ideal vision.
With our vision, we have continued to expand our small breeding facility to breed Arabian horses for THE FUTURE, utilizing proven bloodlines. The preservation of Arabian type and conformation is paramount in our breeding program. The lines we breed will go on to be competitive in the halter ring, performance ring, breeding shed and will be outstanding additions to anyone's family.
Feather Arabians is an extensive breeding facility with an enclosed barn, riding arena, round pen, turn outs, hot walker, stallion dummy, palpation chute and reproduction lab. We are currently standing two of our own stallions. Feather Arabians breeds approximately 4 to 6 horses per year.
Feather Arabians is a family business, with everyone playing a crucial part in it's successful operation. Breeding and foaling season is an important and busy time for all of us here on the ranch. We handle all the day-to-day care and management of the horses that we own, as well as those in our care for breeding services.
Please enjoy our site and if there is anything that interests you, please feel free to drop us an email or give us a call.
We thank you and look forward to doing business with you.
Jerry, Melissa and Patrick Feather
Pictured: Psychic Dream FA ( Dream Quest x Psyches Flower)